Covid and the Hospitality Industry - Adapt your Venue
In these un-certain times for the Hospitality and Leisure sectors there is one thing that is known in the industry.....we need the venues open and operating as soon as it is safe to do so. When exactly this may happen will depend upon many things - the rate of spread of the virus, what protection can be put into place, how risk sensitive your customers are and the type of service being offered (i.e. outdoor areas, take away, counter service or full table service).
Coming out of lockdown will provide numerous challenges for the hospitality business, many of which are related to customer anxiety and their concerns about leaving their personal space and mixing with strangers.
With over 30 years of experience in interiors and supplying furniture to the hospitality and leisure industry what are our recommendations and thoughts?
It appears that the best guess is that some hospitality and leisure venues will start to open and operate from the start of July but this will depend upon the risks and what has been put into place. It is also highly likely that the first areas to open will be outdoor areas and therefore it would make sense to concentrate on these first and maximise any space that may be used. Look at how you can safely take and deliver orders in your existing areas. This may involve the use of screens to direct the customers and then to provide barriers between groups. Also look at possible areas that aren't currently being used for seating to incorporate. Talk to the council or landlord about any possibilities of temporarily utilising other areas so that your total number of covers isn't impacted too much.
During the lockdown period we have seen sustained periods of good weather and sunshine but as with everything about the British weather we have to ask how long will it last? As a longer term investment it is worth looking at shelters, parasols and heaters to make the most of these outdoor areas. It is also a time to think outside of the box.....what can you use to provide protection? In Holland greenhouses have been used to screen customers whilst maintaining the riverside views.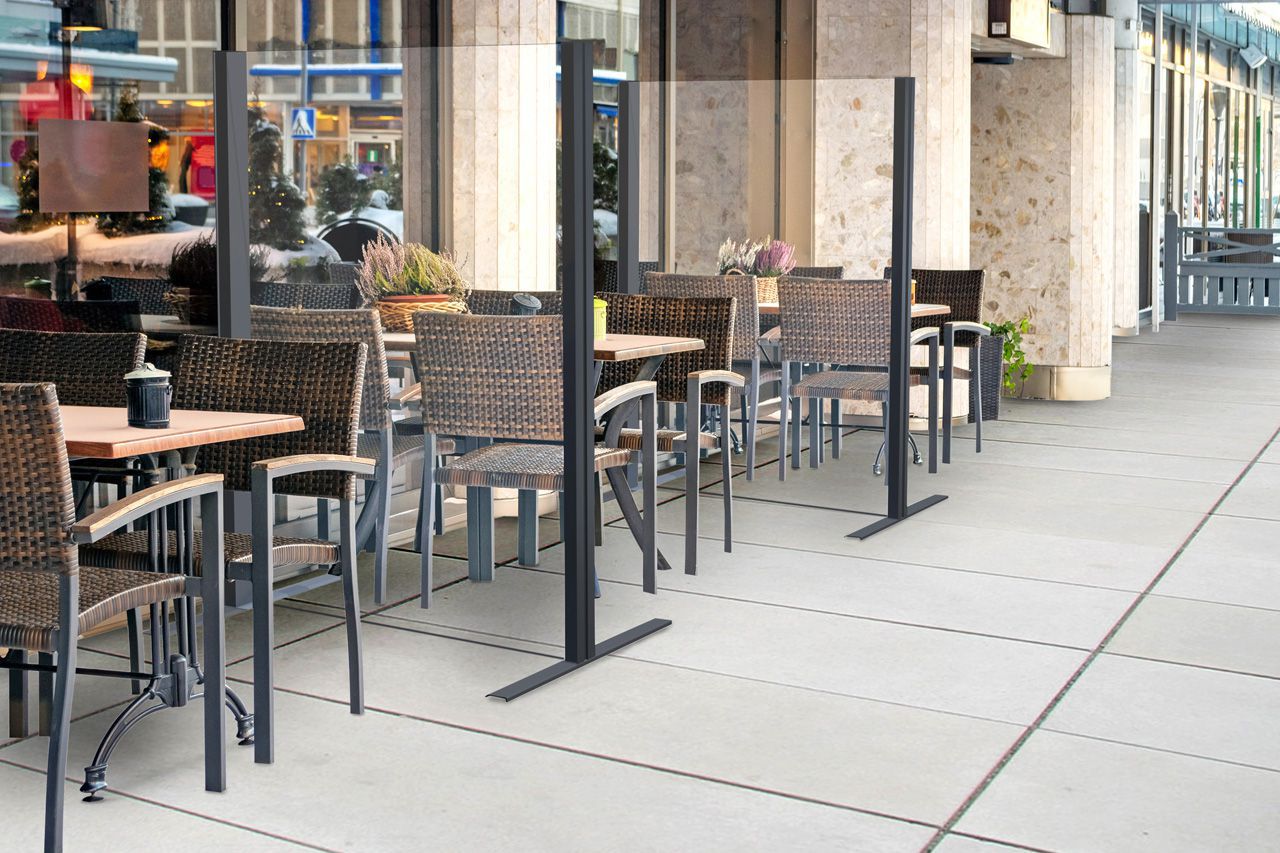 With both the inside and outdoor spaces a good starting point is to look at the customers journey through your venue. Put yourselves in their shoes and walk through your venue as a customer, considering each step and how to minimise the number of contact areas and pinch points. Where possible, a separate entrance and exit would be ideal. Think about how and where to seat people and if this can be done with either signs or hand direction and signals rather than walking them directly to the seats.
Access to toilets and washroom facilities need to be kept clear and a good queuing system, allowing access and egress in plenty of space in essential.
How are orders to be taken? Is it time to invest in mobile technology to achieve this?
Undoubtedly your furniture layout will need to be changed and in most cases a number of tables will need to be removed to create these routes through your establishment. A spacing of 2m minimum will be needed unless other physical barriers can be used. For the foreseeable future group sizes will need to be restricted and therefore extra smaller tables will provide far more options for a flexible layout. If you have a large feature community table then table top screens can be used to break this area up into separate dining areas.
There is likely to be a number of tables that will not be able to be use due to maintaining the 2m rule. One idea is to 'soften' up the interior and provide natural screening using flowers and foliage to produce a more intimate atmosphere and enhance the overall appearance.
Undoubtedly, and very importantly, money will be at a premium so you must ensure that you utilise everything you have at hand. Act now and make sure your business is ready to operate the moment it is allowed. Make the use of this time to get your venue ready and if any help is needed then please contact us on sales@edenfurniture.co.uk.
---
Real Leather, Bonded Leather, Faux Leather - Help! What's the difference?
When deciding whether or not to purchase a genuine leather chair or sofa versus a faux leather one, how do you decide? It's easier to make that decision when you know what exactly each is comprised of and how they vary. Below, we've outlined what each are and the differences between them to help you make an informed buying decision.
First off, starting at the top and the highest quality is Full Grain Leather.
Full grain leather comes from the top layer of the hide. It includes all the grain with it - hence the name full grain leather. This type of leather retains the inherent toughness, as well as the imperfections because there are no surface alterations or splitting.
It is the highest quality leather and thus, it is also the most expensive. Working with this leather material is challenging. It absorbs body oils and develops a patina over time - a characteristic that attributes to its popularity.
Coming in a close second is Top Grain Leather.
Top grain leather is the most common type of leather used in higher-end leather upholstered items. It has had the 'split' part of the hide removed - the layer that would show any natural imperfections or hide marks which is left on in Full Grain Leathers. The resulting hide is sanded to create an even, smooth texture. Next dyes are added and then a finish coat is applied that helps it resist stains. This premium cover material offers the best feel and comfort along with the best colour depth.
Next up is Genuine Leather often known as Corrected Grain / Split Leather
Split leather is made from the layer of hide that is left once the top-grain portion has been separated off. Hides are split horizontally into different layers, so a tannery gets several sheets of leather product from just one hide. The split portion of the hide has an artificial layer applied to it which is then embossed with a 'grain' to simulate the look of Top Grain. It's still leather, made from a real hide, however its cost drops even further, so it also is often found on very affordably-priced items that say 'real leather' or 'genuine leather'.
Finally for 'Real Leathers' we have Bonded Leather
Although this is represented as 'Genuine Leather' it really is not leather as most people would imagine and understand leather to be. Many customers who insist on having 'real leather' or 'genuine leather' upholstered furniture end up with bonded leather. Is it leather? You decide!
Bonded leather is made up of leftovers of the hide. This includes the dust and shavings. These are bonded together using polyurethane or latex on top of a fibre sheet. It is often spray-painted to look like full or top grain leather. Bonded leather is the lowest (and the cheapest) grade of leather.
These ground leather bits make the back of the material feel like suede, and this backing can also have an effect on how the material "feels" and upholsters. When a bonded leather is made with a good PU material, it can be difficult to tell the difference between it and real leather.
Bonded Leather is far less expensive than real leather but because of its real leather content, marketers can use the word "leather" in their descriptive materials. Some call it recycled leather or eco-friendly leather because the manufacturing process is more environmentally-friendly than leather production, which uses several harsh chemicals. But is it leather or not? You decide.
And the Man Made Contribution comes in the form of Faux Leather
These have been in production since the 1940's and have been improved considerably over time. Faux leather, or Polyurethane (PU), is a man-made material and represents the look and feel of genuine leather. It can be embossed with any texture, is water resistant, and easily cleaned and maintained. It offers a great value for lower priced items. Very nice quality PU can feel very soft and look like real leather. It can really fool you sometimes. To tell the difference, you look at the back of the material: if you see a woven fabric backing, it's PU (or vinyl). Some call PU "synthetic leather". At Eden Furniture, we use the term faux leather when the material is PU.
In Summary
Many of the terms are not used consistently and can lead to confusion. The most common mistake is the understanding and use of the term "genuine leather". Genuine leather is most frequently used to describe low quality split leather or bonded leather, but many customers have made the very easy mistake of assuming that the word "genuine" means the opposite of "fake."
A number of companies use the term "genuine" in their product descriptions, in an attempt to convey the fact that they are not using faux leather. Although this is true, it can often be harsher, less comfortable and not as hard wearing as the real man made equivalent!!!
---
Winter Checks & Tips for Furniture
With summer now behind us, autumn is an important time of year to ensure that your outdoor furniture is cleaned and protected from the elements before winter hits. This will ensure that it is in tip top condition and ready to use when the sum returns.
Even furniture that is treated to be weather-resistant or is under a patio cover needs to be cared for and maintained. Spend a bit of time now, and you will be able to enjoy your outdoor living area when spring rolls around - and your furniture will be in top shape.
Teak and Hardwood Furniture
Teak is a tropical hardwood from South East Asia (commonly Indonesia). It is chosen as a premier hardwood as its properties include being a strong, resilient, oil rich wood which is selected due to its grain density. It is a very stable wood that does not warp or rot. Hardwood is a generic term for many woods with similar colour and characteristics, again mainly from South East Asia. These woods include Keruing, Balau, Shorea, Meranti and Eucalyptus. Compared to soft woods (such as pine) these woods have fairly dense grains, although not nearly as dense as teak.
Teak furniture is highly durable and will last for many years without preservatives or treatments. If untreated teak furniture will gradually fade to a silvery grey colour. Over time, natural weathering occurs and small crack (called crazing) may appear. This is perfectly normal and is caused by the expansion and contraction of the wood.
To clean teak & hardwood furniture either lightly sand the furniture or use warm soapy water and a soft brush. Sugar soap, bought from any local diy store will also help. Once clean wash the furniture down with clean water from either a bucket or hose. We do not recommend using a power washer as the force used can damage to furniture.
If you wish the furniture to maintain the original honey colour, the furniture should be treated annually with teak oil or a similar product. Prior to oiling the furniture should be cleaned as above and left to dry thoroughly. If an oil or preserver is applied when the furniture is wet or damp, then black mildew will grow underneath the oil and look very unsightly.
If you are leaving your furniture outside during the winter months, it is recommended that you cover it either with a purpose made cover or a tarpaulin. Make sure it is clean and bone dry before you cover it up and there is ventilation for air to circulate so that if moisture gets in it can also more easily get out on a dry day. Tilting furniture and keeping the feet off wet ground can help prevent rotting.
Resin & Plastic Furniture
Our Evolutif Resin furniture truly is a market leader. It is manufactured with a high chalk content which adds stability to the colours ensuring that the white resin stays white and the colours do not fade. Evolutif furniture is UV resistant and is anti static. It should be cleaned with a soft (non abrasive) cloth and mild soapy water. NEVER use chemicals or any abrasive items to clean your resin furniture. A tip to remove difficult dirt / stains is to spray with a furniture polish and allow that to soak into the stain.
Our Alfresco range of resin furniture is a budget priced range, but has been chosen by us as it offers tremendous value for money. Simply clean this furniture in exactly the same way as for the Evolutif resin furniture.
Resin & Plastic furniture that is left out over winter or exposed to strong sunshine can become brittle over time.
Stainless Steel Furniture
Our Stainless Steel furniture is manufactured from 304 grade stainless steel. This ensures that our products are suitable for outdoor use. Similar to the cleaning of the woods above, warm soapy should be used to remove marks and dirt. Many DIY outlets sell Stainless Steel cleaner which can help restore the original polished look. If you are leaving your furniture outside during the winter months, it is recommended that you cover it either with a purpose made cover or a tarpaulin. Make sure it is clean and bone dry before you cover it up and there is ventilation for air to circulate so that if moisture gets in it can also more easily get out on a dry day.
Wicker Furniture
Our Wicker furniture is manufactured from a from polyethylene synthetic wicker which is suitable for all types of outdoor use. The wicker is UV resistant and in many of the models (i.e. Atlantic Chair) have a steel wire running through the centre of the wicker to add strength and stability. Clean with a power washer on a low setting or a hose pipe with a soft brush to remove the dirt. If you are leaving your furniture outside during the winter months, it is recommended that you cover it either with a purpose made cover or a tarpaulin. Make sure it is clean and bone dry before you cover it up and there is ventilation for air to circulate so that if moisture gets in it can also more easily get out on a dry day.
Make Me A Millionaire To Be Screened In The New Year...1st August 2013
Sky's take on the BBC's Dragons Den, Make Me A Millionaire is set to be screened in the UK in the New Year. This has special significance for us here at Eden Towers as Director Gary Vale was invited to appear as a judge and critic on one of the programs. The episode focussed on Outdoor Furniture and Gary was chosen because of his knowledge and experience within the industry.
Prior to its UK debut, Sky have sold the factual entertainment series to broadcaster throughout the world including broadcasters including UR in Sweden, Sky HD in South Korea, 365 Media in Iceland and pan regional Arabic satellite channel Al Rayan. Viasat has also picked up the series for its channels across Scandinavia, the Baltics and Eastern Europe.
The series was produced by Kalel Productions for Sky TV and comprises eight 60 minutes shows.
Make Me A Millionaire is described as 'a new business series with a feel-good factor'. It delves into the UK patent archives in search of some of the many brilliant inventions that didn't make it off the drawing board. Every episode sees two specialist presenters pick a forgotten invention each. They pay a surprise visit to the original inventors to find out where it went wrong and re-ignite their old passion. Tailor-made support from a team of experts then helps our inventors structure a business plan, produce and market-test a prototype and coaches them how to pitch. Finally, the moment of truth arrives, in front of potential investors and industry buyers, who are ready to fund production and hit the high street. Do they have what it takes to finally realise their dream?
As soon as the dates are confirmed, we will let you know.
Useful Links:-
skyvision.sky.com/Brand/1243/mother-of-invention
www.converttable.co.uk/converttable-news.html
www.kalelproductions.com