StableTable ® Furniture
Eden Furniture are delighted to announce a partnership with StableTable ® to sell their award winning range of products.
StableTable ® is a patented solution to the classical problem with tables that wobble. It is a fully automatic system that needs no manual interaction. Place the table where you want it and it automatically stabilizes by adjusting and locking its legs. Move it somewhere else and it automatically readjusts to the new place. With a mechanical construction inside the pillar, two of the cross legs and their movement is controlled. As soon as equilibrium has been achieved, the construction automatically locks itself. When the table is lifted, the system automatically unlocks itself again and you can place the table where you want and it will again stabilize itself!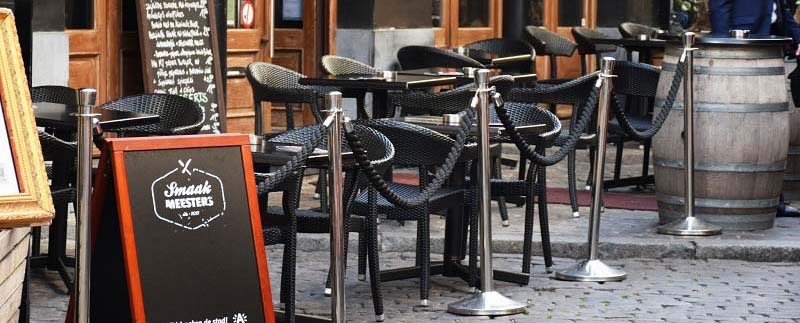 Inside the centre pillar, well protected from gravel, dirt or other external influences sits the ingenious mechanical system that allows the legs to move and adjust to the ground while ensuring the correct height of the table. Due to the unique solution the table bases automatically adjust to both placed next to each other.
Half-empty tables are annoying, revenue management is important and you need guests on every chair. StableTable ® table bases are both light and easy to work with and you can easily move your tables around without them starting to wobble. Place two together as a 4-seater and if only two guests arrive pull the tables 10-15cm apart to create separate tables. Or set them as separate tables and move them together when necessary.

The tables are produced to the highest quality standards in an ISO-certified factory in Sweden. Our special coating technique ensures that there is no chipping or flaking and the tables can be used outside all year round.
StableTable ® FlipTop ™ is based on the same unique self-stabilising system as all StableTable ® bases. In addition, it is fitted with a high-quality flip top mechanism that allows the table top to flip 90 degrees. This makes the tables very compact to store and easy to lift in and out. StableTable ® FlipTop ™ is the ideal solution for cafés or restaurants with limited storage area or where you move the tables in and out every day.

StableTable ® FlipTop ™ can be used with round, square and rectangular table tops and come in both standard size and a special size for large tops. Suitable for tops up to 100 cm round, up to 80x80 cm square or up to 70x100 cm rectangular. With only 7-8 kg of weight they are very easy to manage. The standard size also has a built-in carry handle for ease-of-use.
Simple to flip, easy to lift and efficient to store. Use StableTable ® FlipTop ™ in- or outside all year round on any type of surface. Get all the functionality from StableTable ® self-stabilising tables plus the ease-of-use from a folding top. Store up to 15 bases in the same space as 5 standard bases.